21 years ago today, Pat Gillick pulled the trigger on a trade that would shake the foundation of the Toronto Blue Jays franchise. He sent Tony Fernandez and Fred McGriff to the San Diego Padres for Roberto Alomar and Joe Carter.
The trade immediately paid dividends for the Blue Jays as they posted back-to-back World Series wins in 1992 and 1993. So on the surface, it seemed like a slam dunk trade for the Toronto Blue Jays.
But in the end, who ended up winning the trade; was it the Blue Jays or the Padres? Toronto enjoyed career years from Alomar and Carter, but the Padres also received very productive seasons from Fred McGriff before they traded him to the Atlanta Braves.
MLB Trade Trees went through the painstaking process of tracking all the players involved in the Alomar/Carter and Fernandez/McGriff deal, and here is the subsequent trade tree below:
Just for the fun of it, I went in and totaled up the career WAR's of all the players involved to see who "won" the trade, the Blue Jays or the Padres. Not surprisingly, Toronto took it by a landslide.
Ever wondered how many Toronto Blue Jays players have been on the cover of Sports Illustrated? Well now you can impress your friends when you rattle off all the Blue Jays that have graced the cover of SI.
1.) Dave Stieb (with Andre Dawson): July 18, 1983
2.) Lloyd Moseby: October 5, 1987
3.) Dave Winfield: October 10, 1992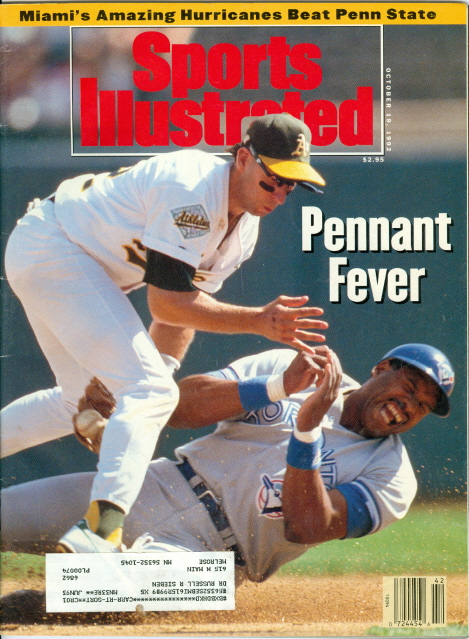 4.) Roberto Alomar: October 26, 1992
5.) Team Photo: November 2, 1992
6.) Joe Carter: 1993
7.) David Wells: July 10, 200
8.) Reed Johnson, Vernon Wells, Frank Catalanotto, Tom Verducci (March 15, 2006)
Check out my guest spot over at Bluebird Banter, in which we travel back to the 1993 World Series and play "what if?".
Had Mitch Williams just collected 4 more strikes in Game 6, who would have won Game 7 of the 1993 World Series?